R&R Software's audited 2013 financial results returned values in accordance with the management's plans – meaning yet another successful business year.
Since its founding in 1991, R&R Software developed to an enterprise giving job to 150 experts, and covering a large palette of competencies and product portfolios. Integrated enterprise business applications still remain in focus, with industry-specific functions and developments.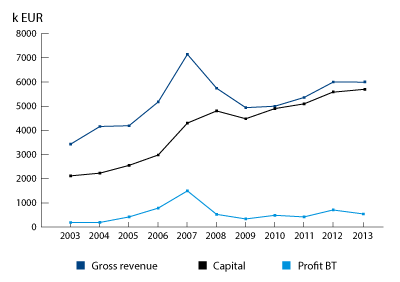 R&R Software could increase its sales and revenues in 2013, increasing to 5,9 million Euros, with profits exceeding 600 thousand Euros. The management is proud that the company still provides positive future outlook, and stable jobs for its colleagues. With continuously increasing number of workers, R&R Software also takes its part in building a sustainable Hungarian economy. In the previous year, R&R Software increased its software and service export numbers by 150 percent.
R&R Software managed to keep its customer satisfaction levels over 80 percent – a much higher than industry standard level.
R&R Software started numerous development projects with the aim of modernizing its enterprise business application in accordance with the WEB service paradigm shift.
Zsolt Rozenberszki, R&R Software's sales director added: "Our goal is stable development: not only by increasing our revenues, but also by expanding our product portfolio, company operations, and our customer base both in Hungary and abroad".