The talent – who already won R&R Software's Scholarship three times – shares his experiences about the Ádám György Castle Academy and his future plans.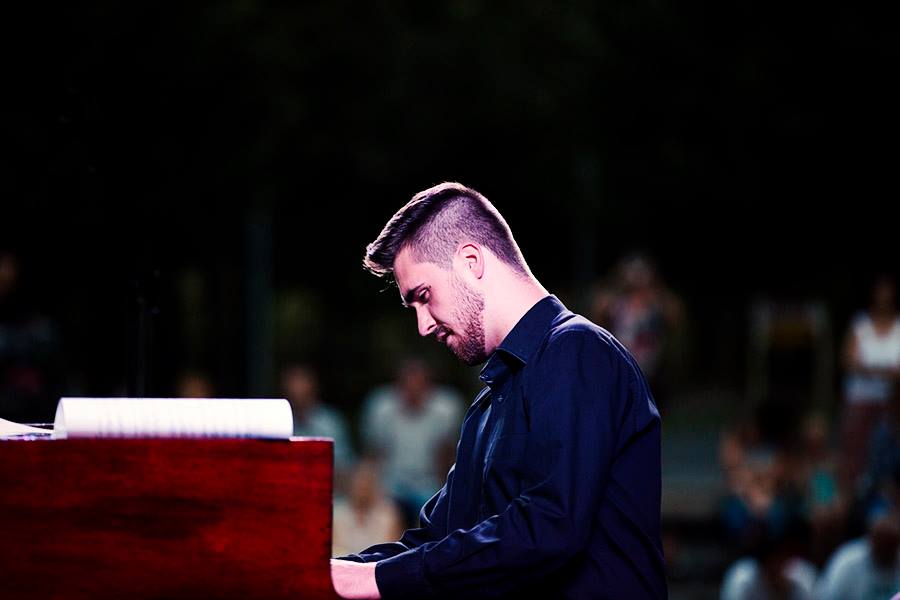 Gergely Kovács started attending the Liszt Ferenc Academy of Music's Special school for young talents in 2007, where he was educated by Gyöngyi Keveházi and Gábor Eckhardt for seven years. At the age of twelve, he won the Hungarian National Piano Competition in Nyíregyháza. In 2013, he won first place at the International Pietro Argento Piano Competition, and started giving concerts both in Hungary and abroad – in the Netherlands, Belgium, Czech Republic, Italy, Germany and Indonesia.
In 2013 he won the Gundel Art Award in the category of classical music.
Thanks to the R&R Software Scholarship, he has been a regular participant at Ádám György pianist's Academy since 2012. He is currently attending the Liszt Ferenc Academy of Music, his teachers are Gábor Eckhardt and György Nádor.
His repertoire consists of not only solo piano pieces but piano concerts and orchestra concerts. He also performs as a part of a trumpet-piano duet with trumpet player János Elmauer.
R&R Software: How did you get in touch with the Castle Academy?
Gergely Kovács: In the second grade of high school I had a very good relationship with my music history teacher. One time he put a paper in front of me, and on its cover was a famous, young Hungarian pianist. He asked me if I knew who he was.
I've heard about Ádám György before, but I didn't recognize his picture. That's when my teacher told me about the Ádám György Castle Academy, and the R&R Software Scholarship that offered an opportunity for young Hungarian talents to participate. We started working on my application – including a video recording and a motivation letter almost right away, and then we submitted it.
They didn't get back to me for a long time, so I was starting to give up participating. I was already making plans for the time of the Academy when my phone rang. It was Ádám himself calling, and letting me know that he is happy to have me in Pomáz for our first breakfast together. I was very happy for the opportunity, although I didn't know what to expect. All I knew was that I am going to attend a piano master course, but I was curiously looking forward to it.
R&R Software: What was your first experience at the Castle Academy like?
G.K.: The first day was a little bit unpleasant because of waking up early in the morning, and the long journey there – but on the second day, I was happy to go there. The chance of professional improvement, the teaching methods of Ádám, the competence of György Nádor and Balázs Réti and the family-like atmosphere together gave me something that – at least in one place – I have never experienced before. I have made cross-border friendships that last up until this day.
Meeting Ádám meant that I got to know a helpful teacher, or more like a mentor: he has a wide and colorful professional carrier. Ha attended the Bartók Béla Conservatory the the Liszt Ferenc Academy of Music – after that he gained more experience abroad, which he could integrate with the knowledge he gained here in Hungary. That's the reason why he's teaching methods are so innovative: for me, he could teach and show new things, while at the same time, being very respectful of Hungarian traditions. In addition, it means a lot to me that I can count on him as a friend.
R&R Siftware: How do you feel about the course as someone who returned for the third time?
G.K.: It is Ádám's conscious goal to constantly develop the Castle Academy, while keeping everything that has been working well. This means that besides the professional improvement, you can count on the best programs, but as a new experience: because the little things always change. New decorations, a redesigned venue, a new piano, a new teacher… there's always something giving a fresh touch and aspect to the returning elements.
R&R Software: What did the Castle Academy give you?
G.K.: A whole lot of new experience as well as professional development, and acquaintances. But if I had to highlight one thing: I feel like the Castle Academy has changed something in me, sort of opened my eyes. This experience has been defining my everyday life ever since.
R&R Software: With Ádám's invitation you have participated in the "outsourced" Castle Academy in Bali.
G.K.: With Ádám's invitation, and with the support of R&R Software J I believe that the main concept of the Island Academy was similar to the Castle Academy's – but utilizing the wonderful environment and the possibilities of the cultural differences. It was a great experience studying there, and taking part in the common programs. We had the opportunity to take lessons from renowned foreign musicians, who introduced us music teaching methods that are different to the ones in Hungary. I believe that this is the key to my improvement and future carrier: studying and building from different sources.
R&R Software: You mention your experiences gained abroad several times, but what about your studies here in Hungary?
G.K.: The Academy of Music is fascinating and admirable. In the past 140 years, it educated several music generations. Its name stands for tradition on solid ground; the professors teaching there look after it, and take very good care of it. Thanks to the prep school, this is my ninth year studying there, and I'm really proud of this. I am still learning new things.
I hope that just like Ádám, I will be able to complete my knowledge with foreign experiences, although I don't yet have a solid plan for the future – apart from the wish to continue in the current direction.
R&R Software: And what if we ask you about something other than your studies?
G.K.: I am thinking about competitions, but I don't have any certain plans on my mind, only ideas – but I don't wish to share them just yet. I am going to have a few concerts in the near future that are still being planned, so I can't tell any dates.
R&R Software: But we hope we can see you at the Castle Academy!
G.K.: I would need a very good reason to not go! And I think the same way about the Island Academy.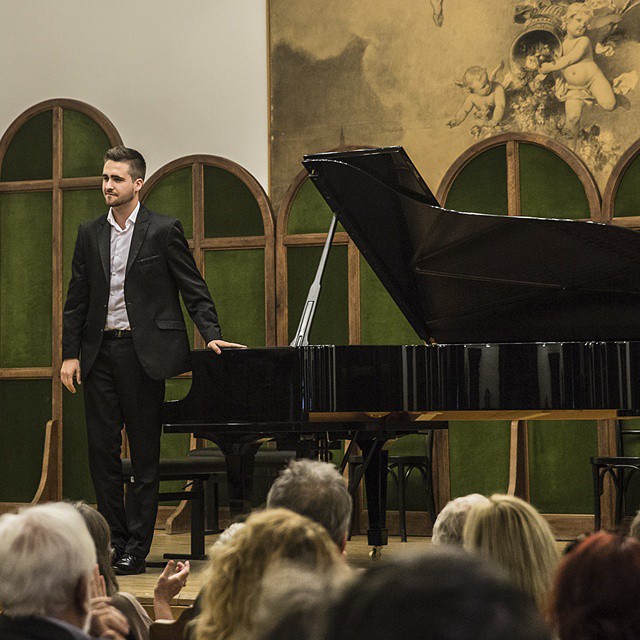 The flagship of R&R Software's CSR strategy is the cooperation with the Adam Gyorgy Castle Academy. The event is held every year in Pomáz, Hungary, where world-renowned professionals and Adam himself hold master courses to talents from all over the world. Up until 2011, the Academy didn't have Hungarian students.
In 2012, R&R Software founded a scholarship which provides a 2500 euro budget for local Hungarian talents to learn from one of today's outstanding piano artists.