According to Gartner's analysis, IBM, Microsoft and Oracle still continue to lead the way on the Business Analytics market.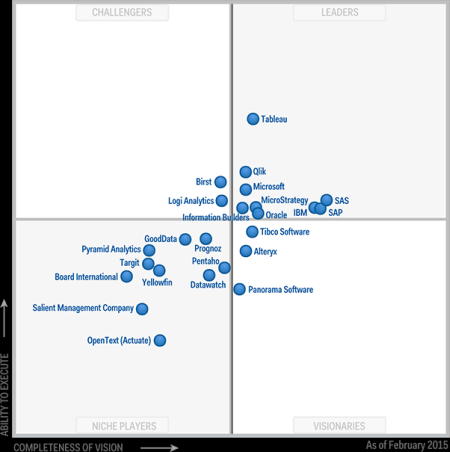 The main strengths of IBM according to Gartner's report:
A product strategy spanning BI, performance management and advanced analytics and innovation around smart data discovery in IBM Watson Analytics (made generally available in December 2014), contributed to IBM's strong position for Completeness of Vision. IBM hopes Watson Analytics has the potential to give business users access to a new user experience for data discovery, featuring an integrated analytic workflow that includes self-service data preparation, natural-language query generation and exploration, and automatic pattern detection and prediction — to allow business analysts and citizen data scientists to find valuable insights in data without advanced skills.
IBM earned a strong overall product score. Enterprise features supporting centralized deployments — such as BI platform administration, IT developed reports and dashboards, metadata management and traditional styles of analysis — in addition to collaboration (through integration of IBM Connections with IBM Cognos 10), are platform strengths.
IBM Cognos is well-suited to large deployments centered on global production reporting that are centrally managed by IT. IBM is ranked in the top four (in percentage) by customers reporting using the platform for centralized BI deployments. It was ranked in the top five in terms of the extent of global deployment and average deployment size (at 2,690 users versus the average of 1,554 for this Magic Quadrant) with above-average data sizes. More than 77% of IBM's customers consider it to be their BI standard, which ranks it third highest. Moreover, enterprise features for BI platform administration, metadata, BI platform integration, IT-developed reports and dashboards, development and integration and traditional styles of BI (ad hoc reporting and OLAP) are product strengths.
IBM has taken a positive step toward improving its sales relationship with customers. Pricing introduced in July 2014 has been simplified into fewer roles, which has resulted in many users getting access to more functionality in the Cognos platform through existing contracts.
The main strengths of Microsoft according to Gartner's report:
Overall cost of ownership and license cost remain the top reasons customers choose Microsoft (according to the survey). Microsoft has integrated good capabilities into Excel such as Power Query, Power Pivot, Power View and Power Map, which are included with existing enterprise license agreements. Additional cloud-based consumption and collaboration capabilities are currently available in Power BI through a subscription-based pricing model in Office 365. Microsoft recently announced a freemium license model for its new stand-alone Power BI offering, which includes Power BI Designer for content authoring, set to be officially released during 2015 and featuring a free tier for up to 1GB of data storage per user and a Power BI Pro option for up to 10GB available for $10 per user per month (significantly reduced from the Power BI version currently offered through an Office 365 subscription).
Many organizations already use Microsoft Excel extensively for data manipulation and presentation of information through spreadsheets, which gives Microsoft a strong foundation on which to build with Power BI and close the gap between it and the data discovery leaders. A key differentiator for Microsoft is its ability to deliver a range of business user capabilities, encompassing self-service data preparation with Power Query and Power Pivot, interactive visualization through Power View and Power Map and the ability to share with SharePoint and Office 365, which few vendors can claim without third-party support and partnership. Platform scalability is a strength of the Microsoft platform, which ranked highest for data volume accessed — with an average data size of 62TB, compared with an overall average of 14.2TB.
Microsoft reference organizations also report deployment sizes larger than those of any other vendor in this Magic Quadrant, with an average number of end users of 6,000 compared with an overall average deployment size of 1,554. With the release of the new stand-alone version of Power BI, business users will have access to built-in connectivity to on-premises SQL Server Analysis Services cubes, which will allow organizations to leverage existing data assets without having to move to replicate in the cloud and further unlock the value of existing multidimensional data structures.
Microsoft products scored well in its traditional areas of strength: BI administration and development, and integration and collaboration. They also scored highly on business-user data mashup — an area of investment for Microsoft with Power Pivot and Power Query.
Reorganization and new leadership at Microsoft appears to be positive for Microsoft BI. Since taking over, new CEO Satya Nadella has made support for Apple and Android devices, as well as cloud deployment, a high priority.
The main strengths of Oracle according to Gartner's report:
Oracle is primarily used for large-scale, centrally provisioned systems-of-record reporting, most often in companies that also deploy Oracle E-Business Suite. Integration with enterprise applications is the primary reason for selecting Oracle, according to customer references. Consistent with this dominant use, Oracle earned above-average product scores for development and integration and traditional styles of analysis. It has also demonstrated vision around multistructured and big data analytics with Oracle Endeca, a search-based data discovery platform, and the newly released Big Data Discovery platform for Hadoop.
Oracle's packaged business domain and industry analytics applications for Oracle E-Business Suite, PeopleSoft, Siebel and JD Edwards, are a top buying driver and give customers a way to deploy Oracle BI more quickly, leveraging Oracle applications and other data. The analytic applications include prebuilt extraction, transformation and loading (ETL) using Oracle Data Integrator, physical star schema models, prebuilt reports and dashboards for a range of functional areas including financial management, CRM and supply chain, as well as industry verticals including retail and telecommunications.
Oracle BI has gained adoption in the cloud through embedded analytics in its Fusion SaaS applications in the human capital management, CRM and ERP domains. Oracle Transactional Business Intelligence (OTBI) has introduced Oracle BI to growing numbers of line-of-business users in HR, sales, service and marketing, and finance functions. Oracle now also offers a warehouse-based version called OTBI Enterprise, which offers packaged analytic capabilities in the cloud similar to its on-premises BI applications.
Oracle has a substantial sales and marketing footprint, and a large set of global system integrators trained on many of the Oracle products who can build, implement and deploy custom applications and integrations.
Oracle's talent, products and technology gained with the Endeca acquisition can be leveraged by customers to address growing requirements for search-based data discovery on multistructured data. Oracle Endeca also received top quartile scores for search-based data discovery.
R&R Software's business analytics group is an expert in IBM, Microsoft and Oracle tools and technologies, providing strategy building, consultancy, mentoring, training, maintenance and operation, and even ISO 9001:2008 quality assured implementation projects for them.
For further information about R&R Software's BA services, please download our brochure:
Source: Gartner BI Magic Quadrant report