Shick-R Ltd. – a client of R&R Software – has opened its new Reanult dealership in accordance with the company's new standards.
Heves county based Shick-R Ltd. has been operating since 1992. It started its operation in Gyöngyös: today, the city still acts as the center for the company. In 2012, the company opened its second site in Eger – the county town of the county – where Renault and Dacia vehicles are sold and serviced. Shick-R Ltd. is the market leading car dealer in the region.
The new dealership in Gyöngyös was opened by József Tóth, founder and CEO of Shick-R Ltd. Miklós Maróthy, COE of Renault Hungária Ltd., György Heisz, mayor of Gyöngyös, father Ferenc Juhász, the city's high priest and Dr. Péter Szendrő, professor of Szent István University's Faculty of Mechanical Engineering all gave a speech for the event.
Shick-R Ltd. was one the first companies to carry out the "Renault Store" project for the dealership, based on the new Renault standard. The entire interior was renewed: from the floor coverings and lighting to furniture and IT equipment. The showroom was also upgraded with new functions: a new customer desk was installed, where customers can configure new Renault vehicles on tablets, and then see their vehicle configuration on the large, wall-mounted screen. Sales tables also received a new image. The service consultant desk has also been renewed: an electronic display was placed here to ensure a quality service and excellent customer information. Shick-R Ltd. has always strived for quality customer service: the 100% result of the recently performed mystery shopping proved just that.
The cooperation between R&R Software Co. Ltd. and Shick-R Ltd. date back to 2001: the company's been using the cDMS car dealership system for almost 15 years. József Tóth has always been among the first to install R&R Software's new products and services: most recently, a tablet-based system that helps with interactive service consultation – which is one the central elements of the new dealership's services.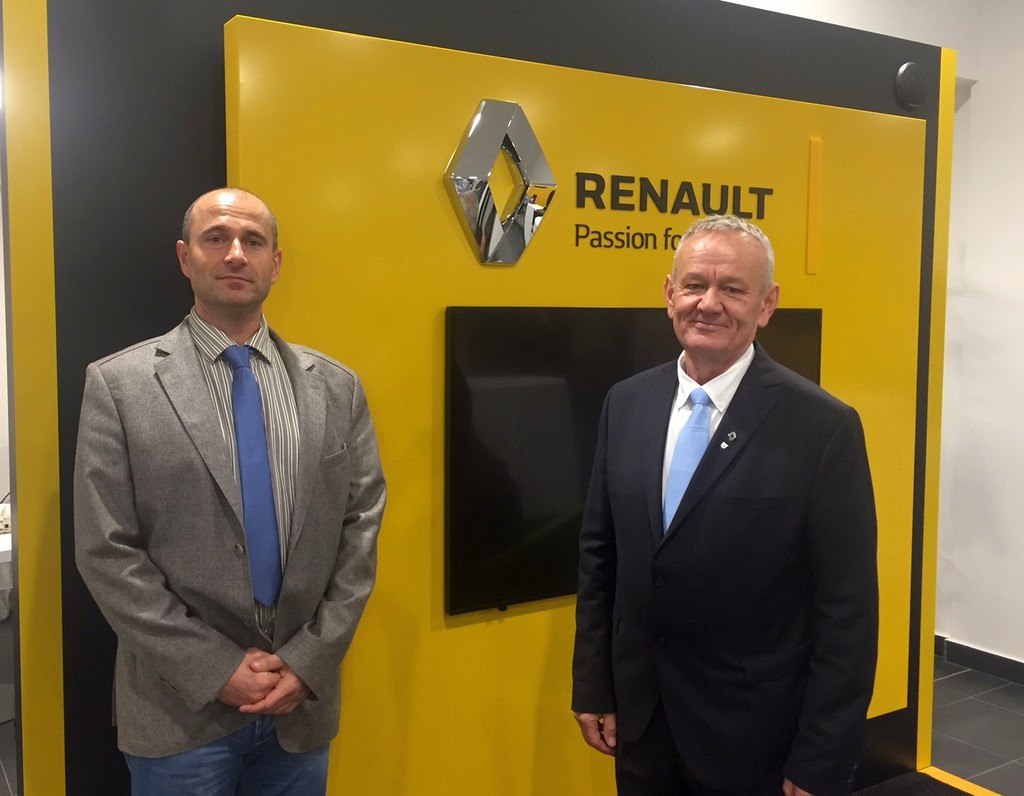 From left to right: András Bognár, R&R Software's cDMS division leader and József Tóth, owner of Shick-R Ltd. before the installation of the renewed salon.
R&R Software wishes all the best for the owner and employees of Shick-R Ltd., hoping that with its services and products R&R Software has also contributed to the achieved accomplishments!