The Hungarian software company received its ISO 14001 certificate in the end of October, 2015. 
Every company – including R&R Software – utilizes environmental resources. Waste – some of it being hazardous – is produced in the offices; company vehicles emit pollutants, printers consume paper. R&R Software has been enforcing environmentally aware operation with work instructions and trainings: also, a few years ago, the company decided to develop an ISO 14001 environment management system beside the ISO 9001 quality management to improve sustainability. After the preparations, the company received the certificate in October, 2015.
With the introduction of the environment management system, R&R Software has set up the following environmental policy:
– Constant monitoring of direct and indirect environmental effects regarding the company's activities.
– Reduce and minimalize the operations harmful effects on the environment.
– Minimize the amount of hazardous waste produced in the offices, and develop a new waste management procedure that maximizes recycling possibilities.
– Creation of a program to achieving the environmental goals, which is to be constantly re-evaluated, revised and further developed.
– Estimate and evaluate the currently known and potential environmental risks of the operation to prepare for averting potential pollutions, as well as taking steps to prevent it.
– Regular training of employees for more environmentally aware thinking.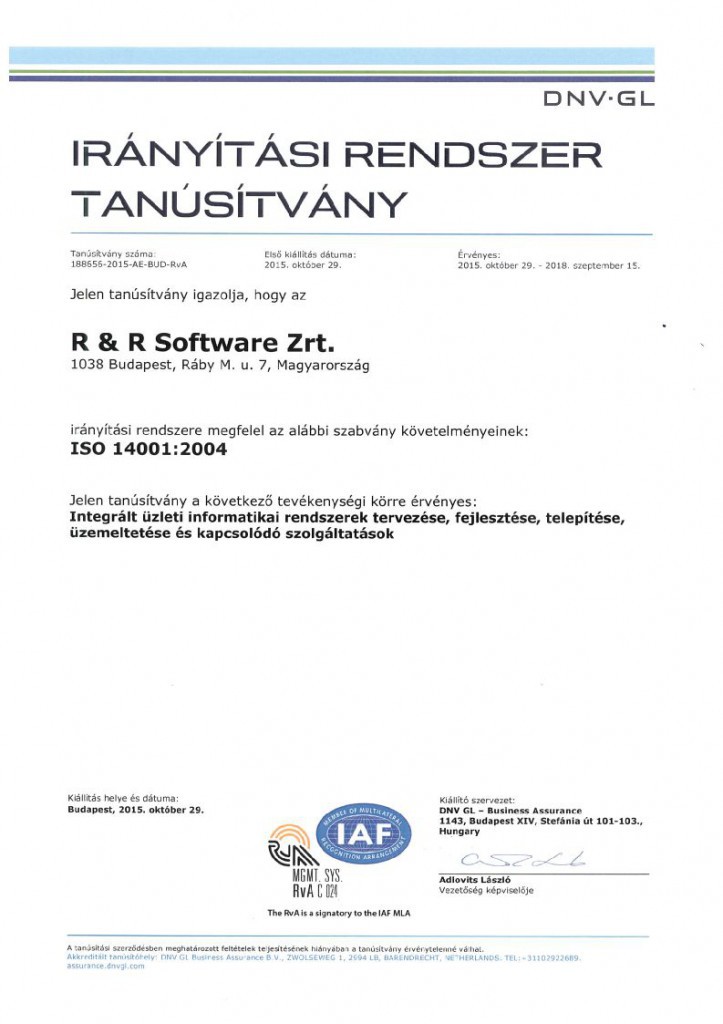 DNV GL – the company that carried out the audit – issued the ISO 14001:2004 certificate for R&R Software Co. Ltd. on the 29th of October, 2015, valid for three years.
The management of R&R Software will continue to provide the necessary resources for operating its environmental management system, and to help improve the company's environmental awareness and sustainability.