R&R Software's renewed VERK TRS application supports field logistics with Android smartphones and tablets.
R&R Software's development and product strategy has been focusing on enterprise mobility solutions since more than ten years – thanks to these efforts, all system supplied by R&R Software are modern, web based system with web browser interfaces: including the industry-specific VERK/400 ERP system. Field representatives' work can be supported, controlled and monitored by the FusionR SFA system.
Some companies carry out most of their sales logistics procedures on the field: they document and bill the orders of their customers right on their doorsteps, managing account and cash balances. For these companies, it's crucial that field colleagues access data and functions stored in the ERP system, greatly lowering the time required for administration, increasing their efficiency.
R&R Software supplied its first sales logistics supporting system in 2007. Back then, it utilized Windows Phone PDAs to support delivery with mobile receipt / delivery note / invoice printing, and full-scale cash and account settlement right on the delivery vehicle, while creating a basis for centralized controlling.
In 2015, VERK TRS received a technical update, making the system available on Android smartphones and tablets. The new version is even easier to use, and has lower implementation and maintenance costs because of the mobile devices – yet it still retains the earlier version's business benefits:
– Lower workforce and communication costs: manual data entry and phone communication becomes unnecessary during delivery routes.
– Route events automatically generate receipts: delivery notes, invoices, cash receipts, etc.: all of them can be printed right at the customer. This eliminates the need to deliver them later, and the risk of receipts getting lost during delivery.
– Stronger central / site control, increasing efficiency: tasks are handed out automatically to field workers, monitoring can be carried out from the office.
– Quicker customer service, increasing customer satisfaction – field worker administration duties are drastically reduced.
– Site level route settlement procedures become quicker and more accurate.
– Prestige: customers will see the company as an efficient, modern partner equipped with state of the art IT technology.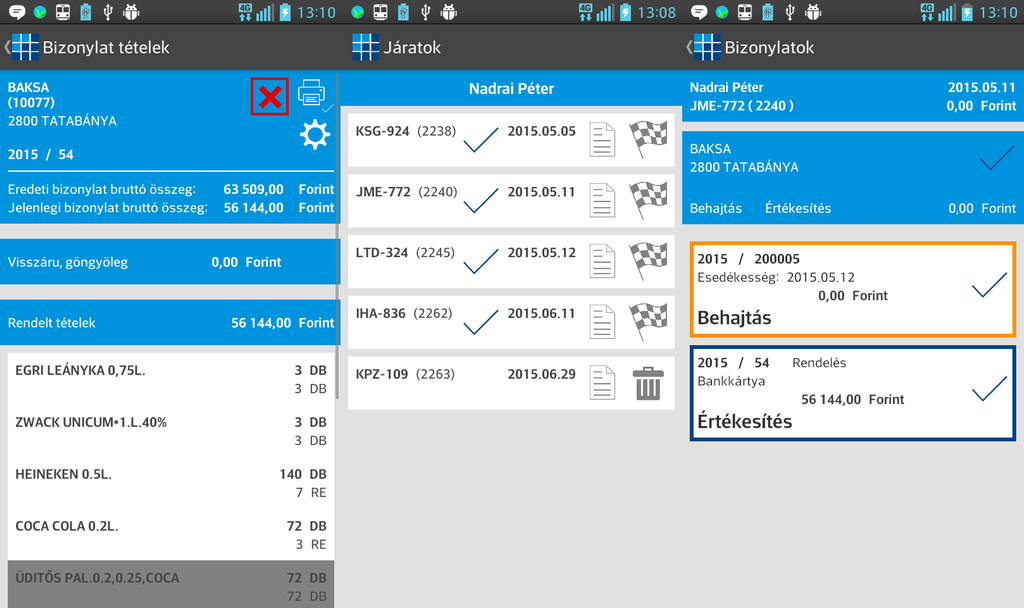 VERK TRS's main functions:
– Vehicle route planning with map usage.
– Sales logistics business process support.
– Local receipt creation and printing (delivery note, invoice, cash receipt, etc.)
– Up to date customer information right from the central ERP system (master data, tasks, collectable amount), efficient management of customer relationship tasks.
– Continuous vehicle inventory and cash control, vehicle inventorisation, pre-settlement self-check support.
– Compliance with special requirements necessary for excise license operations.
– On-line operation, complete integration with the VERK/400 ERP system.
VERK TRS Android is available in industry-specific configurations from R&R Software.