R&R Software's products and services focus on achieving long-term, mutually beneficial cooperation and business relationships, thus defining a quality policy that requires high levels of customer satisfaction. R&R Software's ISO 9001:2008 quality control system dictates that overall customer satisfaction level must be at least 80 percent out of 100.
Compared with 2012's 85,8 percent results, 2013's numbers returned an increase to 86,8 percent.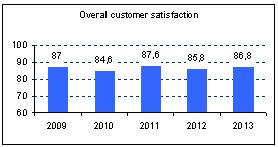 Thanks to the rescheduling of the customer satisfaction survey from December to January, the number of replying customers increased to 62 percent.
Detailed analysis of the returned answers showed that the overall satisfaction with the expertise and competency of R&R Software's colleagues is still outstanding: 4,71 points from 5.
The most significant increase appeared in the answers regarding the question that compares the quality of R&R Software's products and services to other vendors' – the average result increased from 4,04 (2012) to 4,52.
The survey also provided R&R Software's customers with the option of writing upgrade and development recommendations. R&R Software will take these recommendations in account, and will also put effort in reaching out to partners not fulfilling the "at least 80 percent customer satisfaction" quality policy.
R&R Software would like to extend its gratitude to all of it's partners taking part in the survey.