Iniciál Autóház choosed R&R Software Zrt.'s CRM system specified for car dealers and the Microsoft Power BI-based data warehouse solution to support its commercial activities.
The Iniciál Company Group operates as a 100% Hungarian-owned company. It sells and provides customer service and brand service for Renault, Dacia, Nissan, Toyota, Peugeot, Citroen, Suzuki, Kia and Opel brands. The company operates in four locations in Hungary: in Győr, Mosonmagyaróvár, Sopron and Szombathely. It is currently a dynamically developing group of company with more than 140 employees.
With more than 10 years professional experience, Inicál Autóház was founded in 2002 by Zsolt Taródy, who is still the managing director of the company. The company's expertise and competence is confirmed by the growing customer base and the high proportion of returning customers. Iniciál Autóház Kft. has a number of professional recognitions and awards, which in many cases are unique in international terms as well.
Iniciál Company Group has been using a cDMS dealer solution package based on Vector CDP, operated by R&R Software Zrt. for almost 19 years, which R&R Software Zrt. completed in 2019 with a modern CRM application. Main features of the implemented solution:
Completaly process-controlled sales: no more missed business opportunities, unreplied inquiries.
Business opportunities (customer inquiries) can be managed on consolidated, digital basis.
IP PBX integration: in accordance with the quality policy, all business calls are stored and retrievable. Automatic business opportunities can be created from calls, and callbacks are prescribed for missed calls.
Controllable sales activity, deadline monitoring.
Multi-brand environment: unified management of multiple car brands, fulfills the specific reporting and other requirements of manufacturers and brands.
Offers customer contracts with individual, customized signaling for each brand.
Synchronize OPEL customer, vehicle and invoice data from Automaster ERP.
Matching multi-brand offer configurator: for Renault, Dacia, Citroen, Peugeot brands. Dealers can use the brand's own car configurator, which is integrated into the system and the complete offer or sales contract can be created quickly and easily.
Additional company-specific documents and vouchers can be generated as an appendix to the offer, eg: handover protocol, GTC, information on basic equipment, technical data sheet.
All compiled offers and customer contracts can be stored in the digital folder of the customer, so they can be used at any time, they can be versioned in case of a new request for quotation.
Complex GDPR compliance: serving different requirements by brand.
Automate Toyota's unique data needs, synchronize customer data to the Toyota factory system.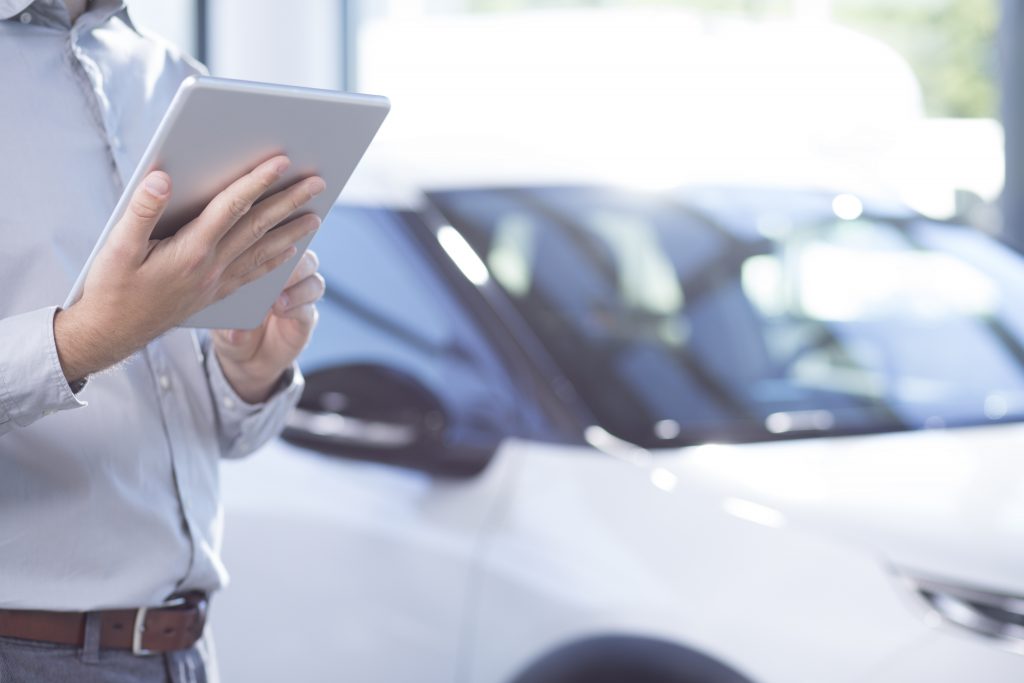 The office CRM application has also been completed by a mobile application running on tablets, which allows to book and manage test drives and record inquiries while standing right next to the car or at a crowded event. Personal data is recorded in accordance with GDPR regulations: the related statements can be accepted and digitally signed by the customer directly on the mobile device, which can also be transfered by e-mail immediately. These functions are also available during the review and acceptance of offers and customer contracts.
In addition to upgrading Iniciál Company Group's customer experience management system, R&R Software has also implemented a Microsoft Power BI data warehouse and business analytics solution that provides fast, accurate, transparent and developer-friendly statistics on trading tasks, even directly user-customizable statistics and also fulfills the reporting obligations for brand importers.
Thanks to the CRM solution, customer communication became more efficient, which was sustainable even during the restrictive measures due to COVID-19.