Prímaenergia Zrt. was looking for an integrated enterprice resource planning solution that would increase the scale and quality of digitalisation and operational efficiency.
Prímaenergia Zrt. (Formerly Prímagáz Hungária Zrt.) is the largest Hungarian distributor of liquid propane and butane gas (LPG) and pure propane. The company started its operation in Hungary in 1992. The field of its operation covers the supply and trade of bottled, tank, motor and automotive gases to resellers and end users. LPG is used by household, industrial, and agricultural users for a variety of purposes: primarily for cooking, heating, as a motor fuel, and for agricultural and technological purposes. Some tank users are supplied by pipelines connected to "village gas tank farms" (municipal supply).
The company's net sales have exceeded HUF 22 billion in recent years.
For Prímaenergia Zrt., R&R Software implemented the VERK/400 integrated enterprise and production management system in 2001, which was followed by further successful collaborations in the following years, such as the integration of the Oracle Hyperion-based reporting system with the VERK/400 ERP system, delivery of R&R Software's FusionR EDM electronic document and invoice management system in 2012 and the VERK TRS mobile route management system in 2018.
In 2011, as a result of the consolidation efforts of the then Dutch parent company of Prímaenergia, the company switched to use a global ERP solution. In 2015, the company became Hungarian property again, and in order to modernise the ERP system and expand the digitalisation of the company's processes, it launched an IT procurement based on comprehensive requirements. The competition process started in 2020 with several rounds. Based on detailed needs assessments, the experts of R&R Software's VERK business unit planned the customization and implementation tasks of the VERK v6 ERP system, based on which R&R Software was able to make a fixed-price offer. As a result of the selection process, in 2021 – 20 years after the previous successful launch – Prímenergia again choosed R&R Software's ERP solution's latest version, the VERK v6. The positive experience with previous R&R Software solutions and the VERK business unit, as well as the cost-effective, fully integrated ERP solution, which increases the scale and quality of digitalisation and operational efficiency, were crucial in the selection process..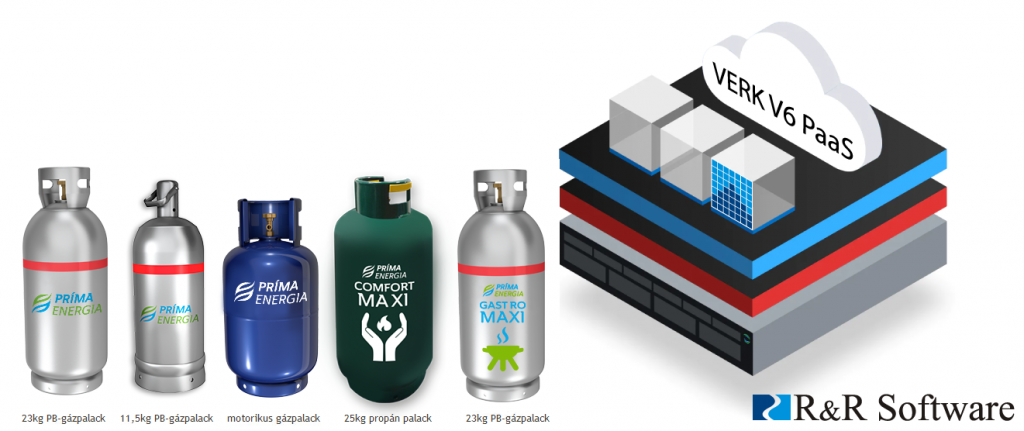 R&R Software delivers the server infrastructure for the VERK v6 enterprise resource planning system from its own resources in the framework of a cloud service (PaaS), for which the company provides a georedundant backup environment (DR site). As part of the project, R&R Software will integrate the VERK v6 ERP system with several of Prímaenergia's own and third-party systems. In the case of ERP systems, in addition to general financial accounting, inventory management, production, trade, logistics and test customization, it is necessary to develop several industry-specific and, within that Prímaenergia specific solutions, such as tax and excise product management and related declarations, campaign management, retail overheads. compliance with legal requirements, registration of own and consumer-owned technical equipment of Prímaenergia. The unique solution supporting the "village gas" supply integrated in the VERK v6 ERP has a special role. As there are many settlements in the country where pipeline natural gas supply is not available, Prímaenergia continues to offer them energy supply options with a pipeline propane gas supply system, so the VERK v6 ERP system must meet the conditions for public utility service providers in which R&R Software has significant experience through its existing utility service provider references.
The listed functionalities are complemented by R&R Software's customized enterprise solutions after the implementation of VERK v6 ERP: The VERK v6 TRS, which provides mobility with Android-based route management and on-premise authentication, and FusionR EDM, a document management system that supports electronic document management and distribution.
The project will be implemented by R&R Software, the detailed design-specification phase of the project is currently underway.