Oracle's BI (business intelligence) solution continues leading the way in enterprise mobility – the new "Self-Service Mobile Analytical Application Design Tool" enables the creation of mobile device optimized interactive reports with HTML5 technology. This centrally managed dashboards can be viewed on Android, iOS, BlackBerry OS, Windows Phone, or Windows RT devices as well using the built in browsers, providing platform indepency while minimizing maintenance and development costs. The new development is available as a part of the "Oracle BI Mobile HD" license, which also provides native app support for iOS devices.
The new, platform-independent mobile BI solution is now available from R&R Software.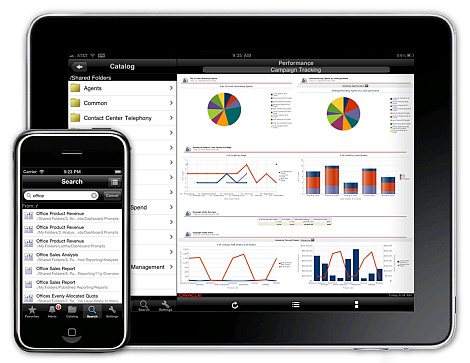 R&R Software is an expert of industry-specific business intelligence, enterprise performance management and predictive analysis solutions, providing ready-made business applications for manufacturing, wholesale, retail, public utility, telecommunication and financial service provider companies. This competency is verified by numerous successful projects and references.
More information about R&R Software's mobile enterprise applications is available here.